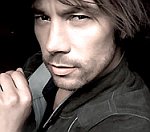 Sex Pistols
star John Lydon and
Jamiroquai
's Jay Kay didn't see eye to eye on a recent flight to Australia.
The pair sat next to each other on the flight when Lydon repeatedly began to wind up Jay Kay with his bad case of flatulence.
"He is a f*cking nuisance. I was seated next to him on a flight and the whole trip he just kept farting. It was totally foul," Jay Kay told The Sun.
"He kept saying, 'Oh, that wasn't me' or, 'The meal smells a bit off, don't you think?' He drove me insane."
He added: "They banned smoking in the air and they should ban farting."
Meanwhile, John Lydon has postponed sessions for Public Image Ltd's new album following the death of his step-daughter, Ari Up.
(by Holly Frith)