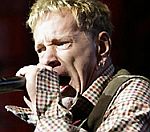 Sex Pistols
frontman John Lydon has announced details of a Willy Wonka-style golden ticket giveaway to coincide with the release of his new book.
One hundred golden tickets will be placed randomly into copies of Mr Rotten's Scrapbook, due out on December 1.
Each lucky recipient of the golden ticket will win a 10 minute webcam conversation with the singer, where they will be allowed to ask Lydon anything they want.
Lydon's book, which is limited to 750 copies, has been dubbed an "exciting and intimate journey through John Lydon's life".
It includes pictures as well as a 12" picture vinyl that is hand built into the back cover of each book.
Mr Rotten's Scrapbook is available now priced £379, or £449 after December 1.
(by Jason Gregory)