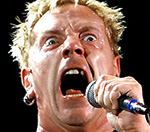 Sex Pistols
' John Lydon has launched an attack on Simon Cowell and the
X Factor
.
In an interview with The Sun, the singer revealed his thoughts on the X Factor boss Cowell and judge Cheryl Cole.
"Simon should give himself a slap in the face and I'm more than happy to help him along the way. He's like a pony with blinkers who is slightly embarrassed about his effeminacy," Lydon told The Sun
He added: "I think he's effeminate – any man that wears tight T-shirts and plays with his nipples on TV has got a social dilemma going on."
On Cheryl Cole, Lydon said: "There's not much going on in the head, is there? Although she does bring men to the TV screen because they're all thinking we'd like a lot more going on in her head. We're just fellas – we live in hope."
Meanwhile, John Lydon has revealed that he is considering writing new material for the Sex Pistols.
(by Holly Frith)