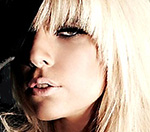 Lady Gaga
has spoken for the first time about her forthcoming perfume - and revealed that it has been developed from droplets of her own blood.
Last month, US media reports claimed that the perfume, due out next year, would smell like blood and semen.
In an interview with Kyle and Jackie O on Australian radio station 2Day FM, Lady Gaga played down the reports about the scent, saying it smells like an "expensive hooker".
"I wanted to extract the feeling and sense of blood and semen from molecular structures," she said. "It is in the perfume, but doesn't smell like it.
"You just get the after feeling of sex from the semen and the blood is primal."
Lady Gaga added: "It was taken out of my own blood sample so it's like the sense of having me on your skin."
The singer is set to join an illustrious list of names, including Britney Spears and Beyonce, who have all released fragrances.
(by Jason Gregory)