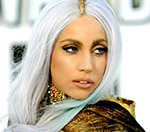 Lady Gaga
has spoken for the first time about her arrival at last weekend's Grammy Awards
inside an egg
.
The singer was transported into the Los Angeles ceremony inside the egg, before hatching from the device on stage during a performance of new single 'Born This Way'.
In an interview with Billboard, Lady Gaga said the egg was intended to symbolise new life.
"I was thinking about birth. I was thinking about embryos," she said. "Even my hair color was a washed out rose color that I had at the Grammys, it was meant to be a hair expression, an after birth."
She went on to say that the performance was "about birthing a new race, birthing a race within the race of already existing cultures of humanity - that bears no judgement".
'Born This Way' is the first single to be taken from Lady Gaga's forthcoming album of the same name.
(by Jason Gregory)