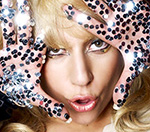 A US magazine has published photos which purportedly show
Lady Gaga
with no clothes on.
In one photo, Lady Gaga is allegedly shown wearing nothing but a pair of a black high heels, while her feet are tied together by rope.
Another image of the star, where she can be seen slumped with her eyes closed, was apparently taken following a night out.
The naked images have appeared in Star magazine, which claims to have obtained them from a friend of the singer. They have also been published by the Daily Mirror in the UK.
If confirmed, Lady Gaga is the latest musician to find pictures of her naked surface in the public domain.
Last week, alleged photos of a topless Rihanna posing in a bathroom mirror were published by a US gossip website.
(by Jason Gregory)