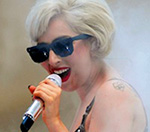 Lady Gaga
covered
The Rolling Stones
during an impromptu performance at a West London pub, it's been reported.
The singer played 'Gimme Shelter' for a couple after she discovered they had just got married.
The newlyweds, Ewan and Julie Searle, were celebrating their marriage when Lady Gaga arrived at The Raven pub.
Julie told The Sun the star ordered a drink for everyone at the bar, before playing 'Gimme Shelter' accompanied by a fellow drinker on acoustic guitar.
"She was really cool but her entourage stopped anyone recording it," she said. "I would have liked a reminder, but then I'm sure I'll never forget it."
Lady Gaga was in London during a brief break in the latest European leg of her Monster Ball world tour.
She is due to return to the capital in December to play gigs at the O2 Arena.
(by Jason Gregory)