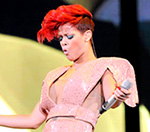 Eminem
made a surprise appearance at
Rihanna
's concert in Los Angeles last night (July 21).
The rapper joined Rihanna on stage to perform his new single 'Love The Way You Lie', which features the singer.
One fan, Sean Preston, told MTV News that the performance at the Staples Center was "da bomb".
He added: "When Eminem came out that was friggin' amazing."
As previously reported, Eminem and Rihanna filmed the video for 'Love The Way You Lie' in LA yesterday.
US media reports have claimed that the short will also feature a sex scene involving actors Megan Fox and Dominic Monaghan.
(by Jason Gregory)