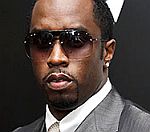 Rapper
Diddy
has praised his Get Him To The Greek co-star Russell Brand.
The US musician said the comedian-turned-actor was "brilliant" in the movie, which sees him star as the fictional rock star Aldous Snow.
"It's the funniest movie of the summer," Diddy, who plays a music mogul in the film, said.
"Russell's style is quick and witty, you have to be quick to keep up with it - he's brilliant.
Speaking to BBC Newsbeat, Diddy also spoke about the upcoming release of his new album, 'Last Train To Paris'.
"It's soul music because the music is honest, vulnerable, different from most that's out there and has a driving force," he said.
"It's an intensity that's kind of refreshing for music and my sound in general, the sound is called Train Music where the music sounds like it's consistently progressing."
'Last Train To Paris', which is the follow-up to 2006's 'Press Play', is due out in September.
(by Jason Gregory)