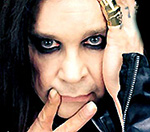 Scientists are to carry out tests on
Ozzy Osbourne
's genetic code to see how he is still alive after years of drink and drug abuse.
US company Knome will map the former Black Sabbath star's genome in a bid to uncover how drugs are absorbed in the body.
Osbourne has spoken openly in the past about his drunk and drug habits, and recently claimed to have been on a "bender" for "40 years".
Nathan Pearson, director of research at the firm, told Sky News: "Sequencing and analysing individuals with extreme medical histories provides the greatest potential scientific value."
The test costs £27,000 and is expected to return results after three months.
As previously reported, Ozzfest will return to the UK in September, with performances from Osbourne and Korn.
(by Jason Gregory)