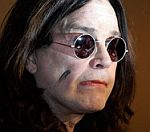 Sir
Paul McCartney
is set to appear in a new documentary about
Ozzy Osbourne
, which has been produced by his son Jack.
The former Beatle interviewed the ex-Black Sabbath star for the film, titled John - Osbourne's real name.
In an interview with XFM, the singer said he didn't believe his son when he revealed that Sir Paul had agreed to do the documentary.
"I said, 'He ain't got the time to do an interview about me, he's got thousands of things to do' and Jack said 'I've asked him and he agreed and he's done it' and I said 'Whaaaat?!'," Osboure said.
"Now I'm as excited as everyone else to see it but he won't let me see the video."
In 2008, Jack Osbourne said he wanted the documentary to "paint an honest picture" of his father. It has yet to be given a release date.
(by Jason Gregory)