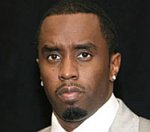 Diddy
has said that UK hip-hop is finally ready to break into the American charts.
The US rapper, who has worked with Tinie Tempah and Chipmunk, told the BBC he was optimistic for British acts.
"I think in the past maybe some of the UK hip-hop artists weren't as authentic to where they come from," he said.
"It's all right to be from the UK and it's all right to talk about what you want to talk about and not try to sound or be like somebody from the US."
Diddy, who appears in the Russell Brand's new movie Get Him To The Greek, said that there was now a "self-pride in UK hip-hop".
He added: "Just like the way in the US it took time for the south and the west coast to break, it's the same thing and I just think that UK hip-hop is on the verge of breaking."
Meanwhile, Diddy is due to release his new album 'Last Train To Paris' later this month.
(by Jason Gregory)