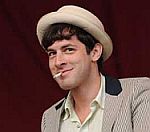 Mark Ronson
has said that he is ready to record
Amy Winehouse
's third album.
But the musician, who produced her 2006 album 'Back To Black', admitted that he doesn't know what the Winehouse's current plans are.
"I'm not sure where it [the album] is. I haven't spoken to Amy in a few weeks, and I haven't heard anything [saying] that she's making a record or not," he told the BBC.
"I'm sure she's writing songs. I think hopefully when she has ten songs or she's ready to make a record she'll call me and we'll go and start how we did last time."
Winehouse is understood to have recorded a number of demos for her third album.
Ronson also revealed that he was getting ready to begin work on his own album next year but said he was still waiting to see "when the inspiration comes".
He added: "Really my day job is being a producer so I would like to produce a couple more records and work with a few more inspiring people probably, before I'm ready to do my next thing."
(by Jason Gregory)