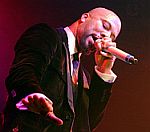 US rapper
Common
has said president-elect Barack Obama will make hip-hop more positive.
The rapper told CNN that musicians would have to embrace different subjects following Mr Obama's election victory.
"I really do believe we as hip-hop artists pick up what's going on in the world," he said. "I think hip-hop artists will have no choice but to talk about different things and more positive things.
"Try to bring a brighter side to that because, even before Barack, I think people had been tired of hearing the same thing."
Common was one of a number of musicians that voiced their support for Mr Obama during his presidential campaign.
(by Jason Gregory)