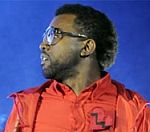 US rapper
Kanye West
has described his hit single, 'Love Lockdown', as being like "nothing else in history".
Writing on his website, the rapper spoke passionately about the track, which is the lead single to his latest album '808s and Heartbreak'.
He also praised the wide audience who have embraced his new record, which sees him sing on the majority of tracks rather than rap.
Complete with capital letters, West wrote: "IT'S SUCH A TRIUMPH TO HAVE 'LOVE LOCKDOWN' ON RADIO. WHEN IT COMES IN IT DOESN'T SOUND LIKE ANYTHING ELSE EVER MADE IN HISTORY! THIS IS NEW MUSIC!
"IT MIGHT TAKES SOME GETTING USE TO BUT WHEN IT SET'S IN IT WILL MAKE ALL THE DIFFERENCE!
West said the huge media interest behind the album had made him feel like a new artist again.
"IT REMINDS ME OF THE FIRST ALBUM (2004's 'The College Dropout') WHEN EVERYBODY SAID I COULDN'T RAP," he wrote.
"I LISTENED TO 'SAY YOU WILL' LAST NIGHT AT MY HOUSE AND WAS DAAAMN, THIS SONG IS SOOOO DOOOPE!!! I'M A FAN OF WHAT I'VE MADE.
"WHEN I MADE 'GRADUATION' I WASN'T SATISFIED! I FELT LIKE CERTAIN RECORDS WERE KEEPING IT FROM BEING A PLAY IN EVERY ENVIRONMENT ALBUM."
West hinted in his blog that his next single would be either 'Robocop' or 'Paranoid'.
(by Jason Gregory)