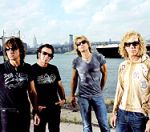 The Live Earth India concert, which was due to feature a performance from
Bon Jovi
, has been cancelled in the wake of the terror attacks in Mumbai.
The event had been due to take place this Sunday (December 7th) to help offer support for the country's important environmental issues and causes, and provide a platform for India to establish a leadership role in the effort to tackle the problem.
"Due to circumstances beyond our control, we are saddened to announce that Live Earth India has been called off," a spokesperson said.
Islamist extremists targeted a number of Mumbai's iconic buildings in a series of sieges last Wednesday. At least 22 foreigners are reported to have died in the attacks.
Organisers of Live Earth said the event, which was also set to feature Roger Waters, had been postponed "indefinitely".
They added that the safety of the high profiles artists booked to appear had been an "overriding factor" in the decision to cancel the event.
(by Jason Gregory)