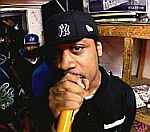 UK grime star
Wiley
has assured fans that he is still alive after a fake news report claimed he had been stabbed to death.
Over the weekend a hoax story emerged online which was disguised to look like an official news piece by the BBC.
As previously reported, US rapper Lil' Wayne was subject to a similar hoax, which said he had been caught up in gang rivalry following a concert New Orleans.
The fake article claimed Lil' Wayne he had been shot six times and appealed for potential witnesses.
Wiley's manager told BBC 6Music that the grime star was fine and is currently recording new material.
"Knowing Wiley, he'll probably make a tune about it," he added.
Lil' Wayne has yet to comment on the report.
(by Jason Gregory)