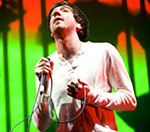 Snow Patrol
singer Gary Lightbody's side-project
Tired Pony
have announced details about their second London gig.
The show will take place at 11.15pm on July 14 at the Forum. The band have already sold-out an earlier gig at the venue on the same day.
As previously reported, Tired Pony also features REM's Peter Buck and Richard Colburn of Belle & Sebastian.
The band's debut album 'The Place We Ran From' is released on July 12, and feaures collaborations with Zooey Deschanel and Editors.
Tickets for the second show are on sale now.
(by Jason Gregory)