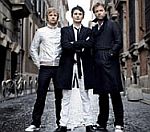 Muse
took a cheeky swipe at their former producer Rick Rubin while picking up a Music Producers Guild Award (MPG) in London last night.
The Devon trio started work on their fifth studio album 'The Resistance' with Rubin, but decided to ditch him and go it alone solo.
Yesterday, picking up their gong for UK single of the year for 'Uprising', Matthew Bellamy took the opportunity to give the legendary producer a good kicking.
"And we'd like to thank Rick Rubin for teaching us how not to produce," he said to laughs and cheers. ""I thought you'd like that one."
Somewhat ironically, Rubin, who was not present at the ceremony, was named as the International Producer of the Year.
Rubin has worked with a dizzying array of acts including Metallica, Johnny Cash, Nine Inch Nails, Slayer, Slipknot, U2, Justin Timberlake, Run DMC, AC/DC, Tom Petty and many more.
The full winners list at the MPG Awards is as follows:
Producer of the Year

-

Paul Epworth

Recording Engineer of the Year

-

Mick Glossop

Mix Engineer of the Year

-

Cenzo Townshend

Mastering Engineer of the Year

-

Tony Cousins

International Producer of the Year

–

Rick Rubin

Live album of the Year

-

Van Morrison

: '

Astral Weeks, Live at the Hollywood Bowl

'

UK Album of the Year 09

-

Dizzee Rascal

: '

Tongue N Cheek

'

UK Single of the Year 09

–

Muse

: 'Uprising'

The Joe Meek Award for Innovation in Production

-

Les Paul

Re-mixer of the Year

-

Simian Mobile Disco

Breakthrough Producer of the Year

-

Paul Savage

Breakthrough Engineer of the Year, sponsored by TL Audio

-

Mark Rankin

Best Studio

-

Kore Studios

Outstanding Contribution to UK Music

-

Chris Blackwell

Unsung Hero

–

Chris Jenkins

, Solid State Logic

(by Scott Colothan)







See also:

Muse's Matt Bellamy And Kate Hudson Engaged

(27.04.2011)

Eminem, Muse, Coldplay, Foo Fighters To Play Lollapalooza Festival 2011

(26.04.2011)

Muse's 'Uprising' Makes American Idol Appearance

(21.04.2011)

Kate Hudson Plays Down Marriage To Muse's Matt Bellamy

(20.04.2011)

U2, Muse Form Supergroup At Secret Show - Video

(18.04.2011)

Coldplay, Muse and Blur 'Asked To Write London 2012 Olympics Anthem'

(08.04.2011)

Muse To Play 'Origin Of Symmetry' In Its Entirety At Reading And Leeds Festival 2011

(29.03.2011)

My Chemical Romance, The Strokes, Muse To Play Reading And Leeds Festival 2011

(22.03.2011)

Muse Will 'Definitely' Release New Album By 2013

(28.02.2011)

NME Awards 2011: Winners List

(24.02.2011)

Susan Boyle More Successful Than Take That, Muse Abroad

(21.02.2011)




Muse. All news for this artist