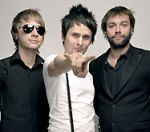 Muse
's '
The Resistance
' has scooped the Best Art Vinyl Award 2009 for its artwork.
The annual countdown, hosted by artvinyl.com, celebrates the best album artwork of the year and is voted for by public vote on their website.
An additional exhibition of the top 50 artworks was hosted at the Georges House Gallery in Kent up until Christmas Eve when voting closed.
Muse's album cover was designed by the London based design company La Boca and triumphed over Manic Street Preachers' 'Journal For Plague Lovers' in second place and Fever Ray's eponymous debut in third.
The full top ten is as follows:
Muse

: '

The Resistance

'

Manic Street Preachers

: '

Journal For Plague Lovers

'

Fever Ray

: '

Fever Ray

'

Massive Attack

: '

Splitting The Atom

'

Green Day

: '

21st Century Breakdown

'

Pet Shop Boys

: '

Yes

'

White Lies

: '

To Lose My Life

'

Editors

: '

In This Light And On This Evening

'

La Roux

: '

La Roux

'





See also:

Muse's Matt Bellamy And Kate Hudson Engaged

(27.04.2011)

Eminem, Muse, Coldplay, Foo Fighters To Play Lollapalooza Festival 2011

(26.04.2011)

Muse's 'Uprising' Makes American Idol Appearance

(21.04.2011)

Kate Hudson Plays Down Marriage To Muse's Matt Bellamy

(20.04.2011)

U2, Muse Form Supergroup At Secret Show - Video

(18.04.2011)

Coldplay, Muse and Blur 'Asked To Write London 2012 Olympics Anthem'

(08.04.2011)

Muse To Play 'Origin Of Symmetry' In Its Entirety At Reading And Leeds Festival 2011

(29.03.2011)

My Chemical Romance, The Strokes, Muse To Play Reading And Leeds Festival 2011

(22.03.2011)

Muse Will 'Definitely' Release New Album By 2013

(28.02.2011)

NME Awards 2011: Winners List

(24.02.2011)

Susan Boyle More Successful Than Take That, Muse Abroad

(21.02.2011)




Muse. All news for this artist