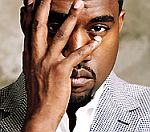 The cousin of
Kanye West
is being investigated in connection with the death of the rapper's mother, Donda, US media reports claim.
Stephan Scoggins, a registered nurse, was overseeing West's mother's care when he allegedly left her unattended in order to go to a baby shower last November.
According to People, Donda's condition worsened while Scoggins was away. She later collapsed and died in a Los Angeles hospital.
In January a LA coroner ruled that West's mother died of "multiple post-operative factors", overruling an earlier conclusion which said her death was "the result of complications from a cosmetic surgical procedure".
People claim that an investigation led by the Californian Department of Consumer Affairs (DCA) has requested individuals "to testify in the matter of the investigation of Stephan Scoggins".
The DCA represents Scoggins' employer, the California Board of Registered Nursing.
West was close to his mother, who often appeared at his side at awards ceremonies.
(by Jason Gregory)