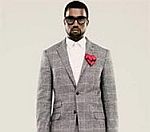 US rapper
Jay-Z
's next studio album will be "phenomenal", according to its producer,
Kanye West
.
West told MTV that the rapper had pushed back the release of 'Blueprint 3' until 2009 so that he could perfect songs on the record.
"I mean, it's phenomenal. We went in and we done the whole album. He wanted to do a few more joints, so he kinda pushed it back," West said.
"Now we're gonna go in and just work on some more records. So I got some more stuff to kill it with."
West has so far leaked two songs – 'Jockin' Jay-Z' and 'History' – which are believed to be pencilled for 'Blueprint 3'.
Jay-Z has also promised that the album, the final part of his Blueprint trilogy, will include his reposte to T.I.'s 'Swagger Like Us'.
(by Jason Gregory)