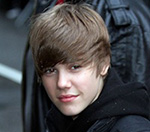 A web developer with immaculate taste in music has devised a programme which erases all trace of teen sensation
Justin Bieber
from the internet.
The aptly named Shaving Bieber application has been developed by New Yorker Greg Leuch and allows its users to censor all reference to Justin Bieber from websites - including photographs.
The Javascript app and Firefox plug-in blacks out any mention of Bieber's name and replaces the images with text.
There is also a bookmark tool which you can click every time you log on to the net to cleanse and purify every webpage.
Explaining his reasons behind creating the programme, Leuch eloquently put it: "I'm just trying to make it easier for my eyes and others."
While many see Leuch as a martyr, Bieber fans have failed to see the funny side, with some even posting death threats online.
One ominously told Leuch on Youtube: "You've found yourself a DANGEROUS enemy."
(by Scott Colothan)