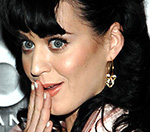 Katy Perry
was 'booed' at her recent gig for suggesting that she cover
Justin Bieber
.
The singer, who is currently in the UK with her California Dreams world tour, was shocked by her fans reaction after she said she was going to perform one of Bieber's songs.
Perry was booed and jeered by the sell-out crowd at London's Hammersmith Apollo on Friday (March 18), reports The Mirror.
"Justin is mine and Russell's adopted son. We love him dearly. Don't boo him, guys. Come on," Perry told the crowd.
During her set Perry also played Rihanna's 'Only Girl (In The World)', 'Big Pimpin' by Jay-Z and Willow Smith's 'Whip My Hair'.
Meanwhile, Katy Perry is donating proceeds from merchandise sold on her world tour to help the victims of the recent earthquake and tsunami in Japan.
(by Holly Frith)