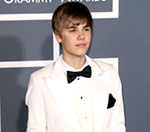 Justin Bieber
has revealed that he is taking a break from Twitter.
The singer, who blasted paparazzi earlier today (April 12) for disrupting his trip to Israel, said he's going to take a break from the social network site  to "spend some time" with his family in Israel.
Bieber revealed the news over Twitter: "Im just excited at this pt to get on stage and perform. gonna take a little break from twitter and enjoy this time with my family until then."
Bieber's My World Tour called in the UK and Ireland earlier this year with support from Willow Smith.
(by Holly Frith)