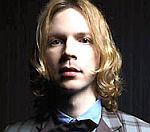 Beck
has announced a very special addition to his sold out show at the Hollywood Bowl on September 20, The Hollywood Bowl Orchestra Strings.
Playing the largest hometown show of his career, Beck will be joined by his father, David Campbell on stage, when he conducts the Orchestra Strings as they accompany the singer on his performance.
David Campbell's work has appeared on more than 400 gold and platinum albums throughout his career and received two Oscars and over 50 Grammys. He has also had his arrangements appear on several of Beck's albums.
(by Victoria Tsigonis)