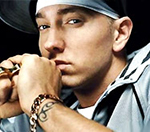 Eminem
donated deer meat to a family in need after the animal became impaled on a fence at his Detroit home.
The deer is thought to have tried to jump the perimeter fence at the rapper's property, setting off intruder alarms.
Eminem's brother Nate took a photo of the deer and submitted it to a local radio station.
According to Examiner, instead of just removing the deer, Eminem contacted Natural Resources & Environment (DNRE), who removed the deer and processed its meat for a family.
Meanwhile, Eminem is currently recording new material, although it is not clear if the tracks are for a new album.
(by Jason Gregory)