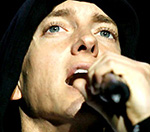 Eminem
's latest album '
Recovery
' was the top-selling album of 2010 in America, it's been announced.
The LP shifted 3.42million copies and Eminem has also become the first artist to top the annual chart twice.
In 2002, the rapper's album 'The Eminem Show' sold 7.61million copies, according to Nielsen Soundscan.
Lady Antebellum's 'Need You Now' was the second-biggest selling album, with 3.09million copies sold, while 'Speak Now' by Taylor Swift shifted 2.96million.
Meanwhile, Katy Perry's 'California Gurls' was the most downloaded song, shifting 4.4million copies.
Eminem's Rihanna-featuring single 'Love The Way You Lie' was the third biggest-selling download, selling 4.35million copies.
Last week, Lady Gaga's 'The Fame Monster' was named the biggest-selling album of 2010 worldwide.
(by Jason Gregory)