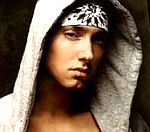 Eminem
's hotel room was robbed while the rapper was at the MTV Movie Awards, according to reports.
Thieves are said to have taken thousands of dollars worth of items, including the rapper's laptop and a £60,000 necklace.
According to the New York Daily News, Eminem was attending the awards ceremony at the Gibson Theatre at the time of the robbery.
As previously reported, Eminem walked out the MTV Movie Awards on Sunday after actor Sacha Baron Cohen exposed his crotch in the rapper's face.
An MTV writer has since revealed that the pair had pre-orchestrated the stunt, which took place shortly after Eminem had finished performing.
The rapper also made a special appearance on stage with Jay-Z at the Wiltern Theatre on Monday.
(by Jason Gregory)