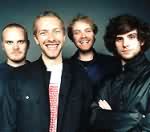 Coldplay
's new album, '
Viva La Vida or Death and All His Friends
', looks set to break pre-sale records ahead of its release later this week.
Fans have been ordering a copy every minute at peak periods on one retailer, with current pre-sales outnumbering the rest of the current top-40 combined.
The band's fourth album, which has been produced by Brian Eno and Markus Dravs, is released on Thursday (June 12th).
According to Play, the album has so for received 20% more pre-sales than Leona Lewis – the current recorder holder – had at the same point with her debut album 'Spirit'.
"People talk about the death of the music industry, but this proves that the right title can still break records," said Helen Marquis, the company's head of music.
"We have not seen an album pre-order to quite these levels before," she added.
'Viva La Vida' was preceded by the single 'Violet Hill', which was downloaded 2million times when it was placed on the band's website for one week at the end of April.
(by Jason Gregory)