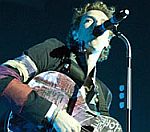 Coldplay
were joined by
Alicia Keys
as they headlined the Summer Sonic festival in Japan last night (August 10th).
Keys, who frontman Chris Martin said was the most beautiful woman on the planet except for his wife, Gwyneth Paltrow, played piano on 'Clocks'.
During the track, Martin changed the lyrics so he could say that he's "sitting on the piano with Alicia Keys".
The rest of the band's set at Summer Sonic comprised mostly of tracks from their latest album 'Viva La Vida or Death and All His Friends'.
The band's appearance at the festival follows their recent tour of North America, which also featured a headlining appearance at the inaugural Pemberton Festival.
(by Jason Gregory)