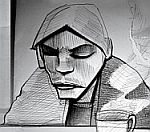 Dubstep-pioneer
Burial
goes by the real name of Will Bevan.
In a blog post on his myspace, Burial dismisses rumours that he was actually a side-project of Fatboy Slim or Aphex Twin, as previously rumoured in The Sun newspaper.
The almost haunting post about hiding from attention and being a "lonely guy" sees Bevan, from South London, dismissing previous works such as 'Untrue' as "rubbish" before explaining how he doesn't want to deal with secrecy any longer.
"Over the last year the unknown thing became an issue so I'm not into it any more," explained Bevan.
Before saying goodbye to his mask of mystery, Burial said "a big big thank you to anyone who ever supported me, liked my tunes or sent me messages, it means the world to me".
Whether Burial will attend the Mercury Music Prize ceremony to perform in public for the first time as well as potentially picking up the prize, remains to be seen.
However this revelation of identity will no doubt put an end to The Sun's search which had only thus for progressed into a "search for a man called Lewis".
This announcement did not however mean an end to Burial as an artist. Bevan announced that he was about to finish a new album as well as being set on releasing a 12" with "4 tunes on it", as soon as possible.
(by Jamie Milton)