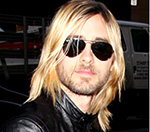 30 Seconds To Mars
frontman Jared Leto has dressed as
Kurt Cobain
to pay tribute to the late Nirvana star.
Leto posted the video, which can be watched below, on his blog yesterday (April 5) - 17 years since Cobain's death.
"I heard today was the day Kurt passed away 17 years ago," Leto said. "Can't believe it's been that long. So grateful for his contribution and inspiration.
"Not sure I'd be doing this if it weren't for him. He gave us all permission to create no matter what our skill set and reminded me that dreams are possible. Thanks for that."
Leto went on to explain that he shot his tribute video when he first learned that plans were in place to make a film about Cobain's life.
"I made it to explore the character and explore creative possibilities," he said. "I never sent it to the studio or to anyone but thought I'd share it now."
Cobain, who with Nirvana popularised grunge music in the early nineties, committed suicide in 1994. He was 27.
(by Jason Gregory)