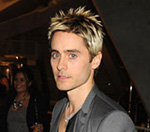 30 Seconds To Mars
frontman Jared Leto has admitted he has been surprised by the response to the band's new video.
'Hurricane', which was unveiled yesterday (November 29), is almost 13 minutes long and includes scenes of sex and female nudity.
Leto said he expected the band to struggle to get TV bosses to approve the explicit version but that he didn't expect the clean edit would also face resistance.
He told Entertainment Weekly the video had received a "really difficult time" and blamed it on what he perceived as double standards in the music industry.
"I'm not interested in provocation for provocation's sake," he said.
"I just think it's interesting that when you turn on the news or whatever else catches your interest, how much violence and negativity is available out there.
"As soon as it comes time for sexuality, it's a big shock that people are sexual beings. It's an interesting double standard to me."
30 Seconds To Mars continue their UK tour with a gig at the O2 Arena in London tonight (November 30).
(by Jason Gregory)