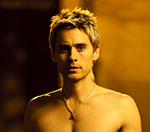 30 Seconds To Mars
frontman Jared Leto has again expressed his surprise at people's response to the band's
controversial new music video
.
The video for 'Hurricane', which features female nudity and bondage, debuted last week, but was heavily censored by a host of US TV networks.
Leto said he didn't expect the video to be as "controversial as it has" and questioned people's problem with seeing sex on TV.
"This is exploring something we're all very familiar with and that's sex," he told Spinner.
"It's interesting that it's a topic that makes people so uncomfortable and it's such a huge part of all of our lives. Sexuality informs almost every facet of our lives, from art and entertainment to politics to even war."
He added: "Sexuality has informed and influenced all of us from day one."
30 Seconds to Mars ended their UK tour with a sold-out gig at Manchester Central at the weekend.
(by Jason Gregory)