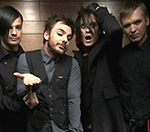 30 Seconds To Mars
frontman Jared Leto has revealed the reasons why the band's new video
has been banned
by many US TV networks.
The 13-minute short for 'Hurricane', which includes female nudity, debuted yesterday (November 29), but only in a heavily censored form.
Leto, who has already accused the music industry of double standards, has now published a letter from an unnamed executive which states why the video was not acceptable.
In the letter, posted on the star's personal website jaredleto.com, the TV executive suggests that the video's "sexual content" is too explicit for a pre-10pm showing.
They specifically highlight a clip where a "women runs finger over other woman's G-string-clad bottom and touches he anus".
The controversy over the video comes as the band prepare to play the O2 Arena in London tonight (November 30).
(by Jason Gregory)