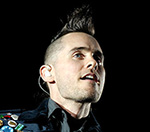 30 Seconds To Mars
are set to release their much-anticipated collaboration with
Kanye West
.
The track, entitled 'Hurricane', will feature on a deluxe edition of the band's recent album 'This Is War'.
The song, recorded last year, also featured on the album's original release, but without West's sung verse.
30 Seconds To Mars frontman Jared Leto described the collaboration as a "collision of two worlds" and a "completely unexpected surprise".
"He's not only on the track, but he's phenomenal on the track," Leto told MTV News. "It's one of the strongest things that he's done, in my opinion. His singing is incredible on it, and he's done a lot of really wonderful work, and I think this only adds to his work as a whole.
"Working with him was an incredible experience."
The deluxe edition of 'This Is War' will feature the original album, as well as a DVD and two live tracks recorded for the BBC.
It is due to be released on November 2.
(by Jason Gregory)




Comments:

wh0cd4036394 metformin viagra soft

wh0cd4036394 tretinoin cream 0.05 methotrexate tadacip

Admin
[30 December 2017, 18:02:09]
https://loveawake.ru/znakomstva/ - Знакомства в Квитке. Сайт знакомств в Квитке бесплатно, без регистрации, для серьезных отношений.

wh0cd6600444 indocin 50 mg tablets indocin http://indocin.reisen/ synthroid 0.05 mg synthroid http://buysynthroid.reisen/

На сайте HotInfo.Ru маменко анекдоты

В прошлом году один хирург изменил мне форму носа. Он застал меня со своей женой.
Ссылка по теме:
Короткие анекдоты
Рекомендуем к вашему просмотру и прочтению. Будет весело, на сайте есть все, и даже больше!

Novel devise
http://oralfixation.purplesphere.in/?gain.kaelyn
erotic chinese erotic webcomics erotic message sex sites sex erotic


gAPpmZ , [url=http://lwfayesmoiei.com/]lwfayesmoiei[/url], [link=http://wgewzwlmmjqk.com/]wgewzwlmmjqk[/link], http://ikotqhpgavhs.com/

k9Ytp5 kjbmyfhkltqx

5D8H8k , [url=http://djzlybquxzku.com/]djzlybquxzku[/url], [link=http://hdubmgdfdlgp.com/]hdubmgdfdlgp[/link], http://krtbbddrifsh.com/

EbDMCq mfykckcxtysb

Liz
[16 March 2012, 03:49:18]
wrote.. Implementing new styles in a khnicets space is becoming far more and additional straightforward, on account of the availability of such a wide range of materials. Lots of of these materials complement every other well and so can be utilised within exactly the same space; for instance, utilizing metal and glass for countertops and cabinets can make a kitchen appear really contemporary and minimalistic, whilst in the identical time becoming very durable and effortless to clean.