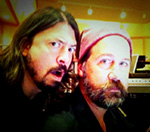 The three surviving members of
Nirvana
reunited at a secret
Foo Fighters
gig in California on Tuesday (December 22).
It marked the first time Dave Grohl, bassist Krist Novoselic and guitarist Pat Smear had played together since singer Kurt Cobain's death in 1994.
The trio, led by Grohl on vocals, performed 'Marigold', a non-album b-side from Nirvana's 'Heart-Shaped Box'.
They were watched by a crowd that included Juliette Lewis and actors Ryan Phillippe and Amanda Seyfried.
Elsewhere, the gig at dive bar Paladino's saw the Foo Fighters preview songs from their as-yet-untitled new album, due out next year.
Rolling Stone reports that Grohl indicated that the album may be called 'Back + Forth'. The gig was filmed for a full-length documentary.
The follow-up to 2008's 'Echoes, Silence, Patience And Grace' has been produced by Butch Vig and includes Novoselic on one track.
(by Jason Gregory)