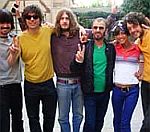 The Zutons
have thanked
Amy Winehouse
, for keeping them in the limelight while they were recording their latest album.
The band have been busy in LA recording the follow up recording the follow up to 2006's 'Tired Of Hanging Around' and we worried that people might have forgotten about them.
Their third studio album, 'You Can Do Anything', is out on June 2 and saxophonist Abi Harding says the band have a lot to thank Winehouse for.
She told the Daily Record: "We have been out of the game for a couple of years recording the album and it has kept us going.
"People might have forgotten about us if they hadn't heard it more, so the timing was perfect."
She added: "I think Amy is great. It is such a good song and all they used from our version was the melody, chords and lyrics.
"Nothing else is the same. They didn't even use the main guitar riff the song was written around. It proves to me it is a really good song.
"The first time I heard Amy and Mark's version, I wasn't sure. I thought it was mad. But the more I heard it, the more I loved it."
(by Daniel Melia)