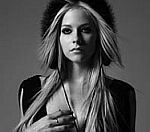 Avril Lavigne
has been forced to postpone a series of concerts in America after being diagnosed with acute laryngitis.
Following the cancellation of two dates last week, Lavigne has now called off six more dates in California and Washington this week.
The cancelled shows come just two months into Lavigne's massive five month world tour.
In a message on her Myspace, Lavigne offered her "sincerest apologies to all of my fans".
"My intention was to complete the rest of the tour but tonight at sound check in Anaheim I realized this wasn't possible," she said.
"Even though I have been resting my voice for days, when I tried to sing nothing came out."
Refund for the shows are available from point of purchase today (May 5th).
(by Jason Gregory)