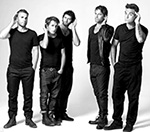 Take That
's
Mark Owen
and Howard Donald have been in a spot of trouble whilst on a recent visit to the US, it has been reported.
The pair, who were travelling over to LA to visit band member Robbie Williams, were held at US customs for travelling without a working visa.
A source told The Sun: "The lads are often on the LA flight but this visit was exceptionally bad. Howard was on the receiving end of the worst of it. They thought he was pulling a fast one, coming in the US to work."
"It was a fraught few hours. Howard was knackered and could have done without the hassle. Mark got through unscathed but it started the trip in the wrong mood."
Meanwhile, the video for Take That's new single 'Kidz' has been unveiled.
(by Holly Frith)