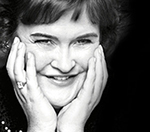 Susan Boyle
had the most successful album abroad by a British artist for a second year running in 2010, according to new figures.
The Scottish star's second LP 'The Gift' sold 3.7million copies overseas.
In 2009, Boyle also topped the list with 'I Dreamed A Dream', which sold six million copies in the wake of her appearance on Britain's Got Talent.
Sade's 'Solider Of Love' was second, selling 2.3million copies, with Mumford and Sons' 'Sigh No More' shifting 1.3million, according to Music Week.
Muse's 'The Resistance' sold one million copies, while Phil Collins 'Going Back' and Gorillaz' 'Plastic Beach' both sold 900,000 units.
Florence And The Machine's 'Lungs' also enjoyed strong sales along with 'Progress' by Take That and James Blunt's 'Some Kind Of Trouble'.
(by Jason Gregory)