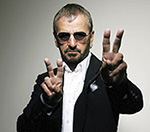 Ringo Starr
could be set to create his own video game, it has been reported.
The former Beatles drummer has trademarked the name 'Ringo' to be used in game and computer software, reports Uk.gamespot.com.
Starr has registered his name next to the description of "computer game software" and "downloadable computer games via the Internet and wireless devices."
The Beatles launched their own version of Rock Band in 2009, which enabled users could play along to 45 of the band's biggest hits using remote-controlled plastic instruments.
Meanwhile, the former home of Ringo Starr has been targeted by souvenir hunters before it is due to be demolished.
(by Holly Frith)