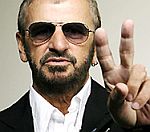 The Beatles
'
Ringo Starr
and Sir
Paul McCartney
have joined forces on the drummer's new album '
Y Not
'.
Macca sings vocals on two of the album's tracks – 'Peace Dream' and 'Walk With Me' – and Ringo reckons the songs are all the better for it.
Ringo enthused: "Paul was doing the Grammys, so he came over to the house and was playing bass on 'Peace Dream'.
"I played him this other track and Paul said, 'Give me the headphones. Give me a pair of cans'. And he went to the mic and he just invented that part where he follows on my vocal. That was all Paul McCartney, and there could be nothing better."
Of the second track 'Walk With Me', according to The Guardian Ringo added: "It makes the song like a conversation between us, and that was Paul's idea to do his part one beat behind me. That's why he's a gen-i-us and an incredible bass player."
'Y Not', Ringo's 15th studio album, is set for release in January 2010 and also features contributions from Joss Stone, Joe Walsh, Van Dyke Parks and Richard Marx.
(by Scott Colothan)