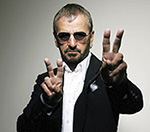 Ringo Starr
has snubbed the
Vatican's bizarre endorsement
of
The Beatles
this week.
As reported earlier, the official newspaper of The Vatican, L'Osservatore Romano, has tried to heal the rift with The Beatles 44 years after John Lennon infamously said the band were "bigger than Jesus."
They wrote on Monday: "It's true, they took drugs; swept up by their success, they lived dissolute and uninhibited lives.
"But, listening to their songs, all of this seems distant and meaningless. Their beautiful melodies, which changed forever pop music and still give us emotions, live on like precious jewels."
However, speaking to CNN, Ringo Starr rubbished the Catholic church's words.
"Didn't the Vatican say we were satanic?" Starr said. "And they still forgive us? I think [the Vatican] has more to talk about than the Beatles."
(by Scott Colothan)