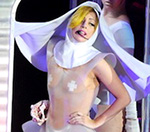 Lady Gaga
has thanked her fans for helping to make her brave.
The singer paid tribute to her followers, who she dubs her Little Monsters, during her performance at London's O2 Arena last night (December 16).
"I didn't used to be brave. In fact, I wasn't very brave at all. But you have made me brave Little Monsters," she said.
"I've travelled this whole world and you've bought so many tickets, so I've promised myself that I will be brave for you."
The gig marked Lady Gaga's fourth appearance at the O2 Arena in just over twelve months.
As previously reported, the singer courted controversy at the show when she bit the head off a stuffed Father Christmas.
(by Jason Gregory)