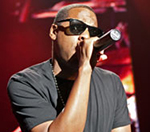 Jay-Z
's interactive game, which is based around his forthcoming memoirs Decoded, has reached its half way point.
To promote his new book, released November 16, the rapper has been treating fans to a little treasure hunt. The interactive game involves hunting down pages from the book hidden around New York City.
The game launched on October 18 at Bing.decodejay-z.com, allows fans to solve clues to find the location of the pages, either physically or online.
Those who are successful, will be entered into draws to win sign pages of 'Decoded' and gig tickets.
Decoded is set to put a spin on the traditional autobiography, with the public required to 'decode' such songs as '99 Problems' and 'Big Pimpin''.
(by Holly Frith)