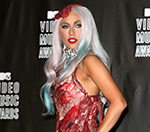 Lady Gaga
's now infamous meat dress is on its way to becoming a "jerky", it's creator has revealed.
Franc Fernandez said that once the process of drying out had been achieved, the dress would be archived alongside the singer's other outfits.
"The meat dries out, rather than rotting. It becomes jerky," Fernandez told E! Online. "But it shouldn't be worn again."
Lady Gaga wore the outfit at the MTV Video Music Awards (VMAs) in Los Angeles earlier this month.
She has said that the dress "smelled good" and played down criticism from animal welfare groups.
The singer said she wore it because she didn't want to be "just another bitch in a dress at an awards show".
(by Jason Gregory)