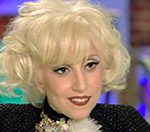 Lady Gaga
has begun legal action against a company that made a replica blow-up doll of the singer.
Pipedream Products began selling the 'Lady Gag Gag Love Doll' as part of its Super Star Series range in June.
The life-size doll depicted the singer in one of her more revealing leather outfits.
But it has since been removed from the company's website following a copyright infringement claim from Lady Gaga's lawyers, reports The Sun.
The lawsuit comes in the same week that it emerged that Lady Gaga was planning to bring out her own perfume.
The star is apparently working with fragrance company Coty Beauty on the perfume, which will launch in 2012.
(by Jason Gregory)