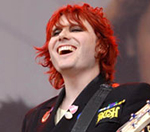 Manic Street Preachers
bassist Nicky Wire has praised the "Warholian" qualities of pop stars like
Lady Gaga
and
Kylie Minogue
.
Wire, who wrote two tracks for Minogue's 1997 album 'Impossible Princess', said he admired natural pop singers.
"Me and Richey [Edwards, the band's late guitarist] used to wear Kylie t-shirts and it was deeply unfashionable when we first started coming to London but she just represented something, a kind of naturalness in pop, a gigantic personality, which is what we cared about when we started," Wire told XFM.
"It was our mission to be as popular as we could. Just like Lady Gaga today, sometimes you just appreciate the Warholian nature of pop music."
The bassist also revealed that he would like to write a song for Morrissey.
But Wire said revealed that his wish wasn't based on any previous discussions he had shared with the former Smith star. "None at all! I just fancy it," the bassist said.
Manic Street Preachers release their new studio album 'Postcards From A Young Man' on September 20.
(by Jason Gregory)